Delivering Technologies, Delivering Opportunity

Drone photo of Lake Condah
By Leroy Malseed
Delivering Technologies, Delivering Opportunity
Delivering Technologies, Delivering Opportunity
Delivering Technologies, Delivering Opportunity
About SKS Indigenous Technologies
Delivering Technologies, Delivering Opportunity
We are driven by a passion and vision of a more equitable Australia and Indigenous economic independence and prosperity.
We provide an opportunity for Indigenous Australians to gain an education and develop skills and qualifications through employment and commercial activity.
We launched in 2022 as a partnership between Chris Johnson and SKS Technologies Group Ltd. We have combined Chris's proven knowledge in Indigenous recruitment and employment with his strong connections within and across Indigenous communities, with SKS Technologies' commercial empowerment through our long-standing expertise in delivering Technology solutions across Audio Visual/IT, Electrical and Communication Networking solutions nationally. Together we provide a full end to end technology solution that connects our government and private sector clients. 
Across our network of seven state and territory locations, the way we fulfill and promote Indigenous engagement and deliver projects successfully for our clients remains the same. It is only possible through internal and external education and having a strong focus and passion for respect and awareness.
As a profit-for-purpose business, we work with key industry bodies to help close the gap through education and employment opportunities. We have set a minimum target for our overall Indigenous employment throughout the SKS Technologies Group to exceed the national Indigenous percentage of the total Australian population. We also have a commitment to procure products and services from Indigenous companies.
As a proud Gunditjmara and Wiradjuri man, Chris has very strong connections and ties within and across Indigenous communities. As such, Chris's vision is, and always has been, for Indigenous people to gain an education and develop skills and qualifications that enable a better future. This has been his mantle as he has progressed from education to sport, work and beyond.
Having this objective, supported by his life experience and working history, provides Chris with the foundation knowledge as well as a desire and passion to give Indigenous people opportunities to be successful in life. Chris believes through education we create employment which creates family well-being and economic independence along with feelings of self-confidence and self-worth in order to be able to participate strongly in society. To participate in the construction industry, it is important to gain skills and qualifications that allow jobseekers to be competitive in the workforce.
Chris's experience through his family, sporting career and roles in the workforce post his sporting career have all been channelled in this direction. Education, connections to community, cultural identity, resilience and leadership provide a strong base for increasing self-worth thus supporting and empowering people to aim for personal development and independence leading to prosperity for Indigenous people.
Read More
To enable this, it's strong family connections that need to be underpinned and linked to the SKS Technologies Groups commitment to Reconciliation, the Johnson and Jinks family and their staff ensuring that the employees can complete their qualifications and/or skills in a culturally safe environment.  Having a shared responsibility across organisations and their staff provides the required platform for change. The families and their strong connections will be an important driver and contributing partner to support the process.
After a 16-year playing/coaching career Chris has been working within the AFL industry in a managerial role. From 2009 to 2020, Chris has been accountable for the delivery of National programs to the wider communities. In his time at the AFL, Chris was assigned to a number of projects that sat outside of his existing responsibilities. He worked on developing strong relationships within the Aboriginal and Torres Straight Islanders community at local and national levels. Chris recognized the best female and male Indigenous football talent across the country, mentoring and offering tools for these young enthusiasts to aspire to, from leadership skills that help with the day-to-day challenges and most importantly giving life skills, which he strongly believes is beneficial well after their football journey is over. Chris has diligently supported youth for over a decade, helping young athletes from all over the country maximise their football potential whilst giving them the opportunity to become powerful young people and furthermore to help develop and support the broader communities.
One of Chris's biggest achievements has been co-chairing the Reconciliation Action Plan for AFL Victoria. This has provided him with a wide-ranging review of how much we do as an AFL industry for Indigenous people, and this is where he will assist SKS Technologies Group in replicating that. Whilst achieving the above, Chris's family has been by his side throughout the journey. Married for 20 years to his wife Vanessa who is from an Italian heritage. Together they have four children, three sons and one daughter who are all quite competitive, sporty and love to play football.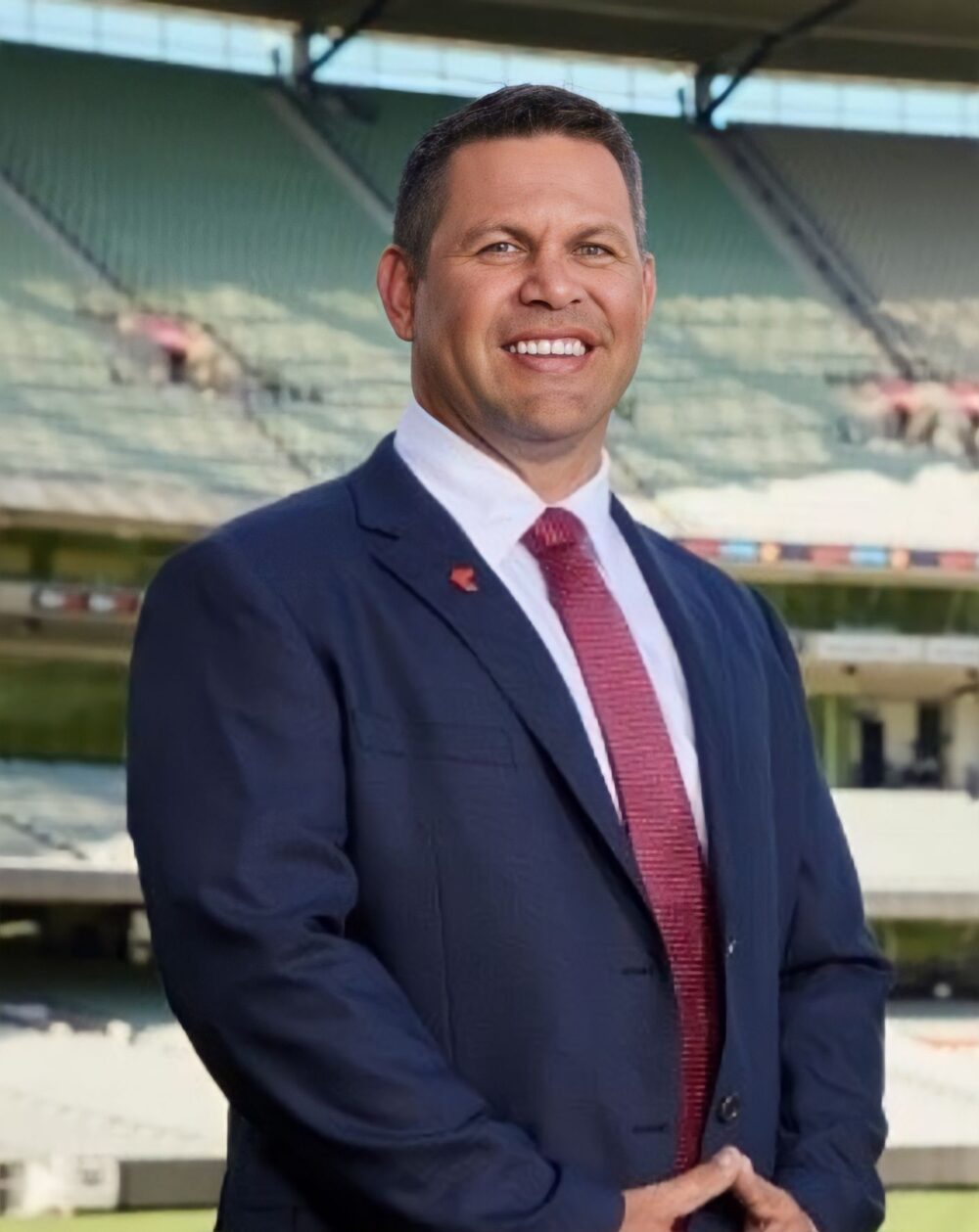 SKS Technologies Group Ltd
As a long-standing public company, SKS Technologies Group delivers advanced technology through digital transformation via creative design and installation of converged AV/IT, electrical and communication networking solutions nationally.
We offer clients the opportunity to benefit from our extensive industry experience, where we provide a range of related services across the one solution. For our clients, this means we are able to offer integration synergies, leveraging all divisions when required, to deliver a broader supply and installation solution
Our Company is built on our people with strong values of integrity, respect, quality, and a client focus. We believe it is our responsibility to lead the way in creating a more equitable and sustainable Australia for all Australians though our decisions, activities, and actions. 
Many of our customers are looking for meaningful Indigenous engagement in Australia. The SKS Indigenous Technologies business provides that opportunity and as a Group, SKS Technologies will look to integrate all its technical services to execute on this initiative.
The Johnson & Jinks families have had connections to each other for many years through sports and a network of friends. Chris Johnson, Managing Director of SKS Indigenous Technologies, is the designer behind the Aboriginal artwork within the SKS Indigenous Technologies logo.
Chris Johnson said, 'It was important that the artwork design portrays and symbolises the two families coming together where common values and beliefs are shared. Waterholes are a principal of life in the remote parts of Australia where people meet for physical and spiritual sustenance.'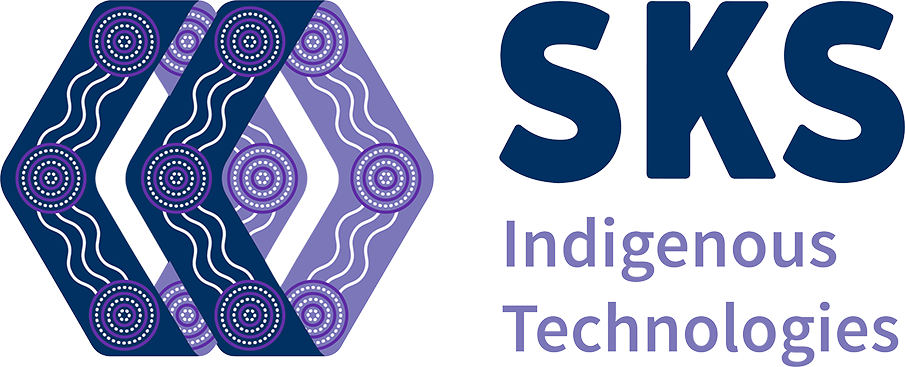 The circles are water holes that are a representation of individuals in the Johnson & Jinks families. Within the water holes are the dots which represents the employees of SKS Technologies group.
The left side of the logo are the waterholes that represent the Johnson family. At the top is Chris and his wife Vanessa, then their children Lachlan and Preston in the centre, Aiden and their daughter Charlee at the bottom.
On the right side of the logo are the waterholes that represent the Jinks family. At the top is Peter and Greg and their wives Velda and Dorothy in the centre, with their sons Matthew and Patrick at the bottom.
The squiggly lines between each water hole depict the flowing water and the connection between each waterhole symbolising the connection between our families and our staff.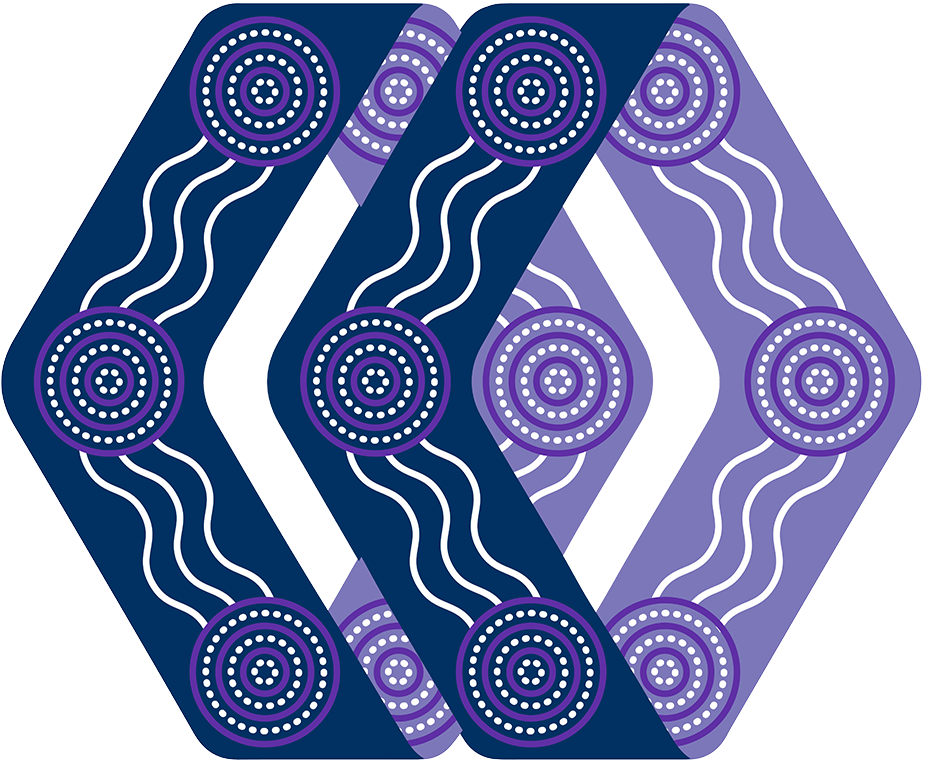 SKS Indigenous Technologies

Electrical Solutions
SKS Technologies is a registered safepower assured electrical service provider. Whatever your commercial, retail, education project …

Communication Networks
SKS Technologies can design, project manage and install a certified structured cabling system that is warranted, not simply to meet, but to exceed your performance needs …

AV, Unified Communications & Media Walls
SKS Technologies, deliver advanced expertise in the design, installation, commissioning and maintenance of audiovisual systems across Australia.

Smart Technologies
In today's climate the way we work and communicate is evolving. It is essential to create a collaborating environment to connect remote employees and clients.

Support
Our SKS Technologies Support team provide the right level of system support to every customer, everyday.
SKS Indigenous Technologies has an experienced and dedicated team focused on ensuring all projects are completed to the highest standard, and that we remain at the forefront of the latest technologies.
At SKS Indigenous Technologies we believe our people play an essential role in delivering projects. They understand the vision of each project and accurately plan to specifications, identify key requirements, then marshal the resources to deliver. Focused business and technology consulting is required in order to realistically assess the scope of any project, taking an overview of customer strategy, focusing resources and effectively establishing requirements before delivery. SKS Indigenous Technologies employees have completed many projects that span a variety of industries with diversity of scope and integration of audio-visual, electrical and communication services.
Adelaide Railway Rejuvenation Project